Capy was a capybara. Capybaras are the largest rodents in the world. They are natives of the American tropics and live in family groups along the banks of rivers in which they take refuge from some predators. They are excellent swimmers. My mother started calling him Capyboppy and the name stuck.
I am ashamed to admit I ordered Capy from an animal importer. Exotic pets often become more than their owners can handle, as did Capy. Only a small fraction of imported animals survive the long journey from their natural habitat to the pet store. Some are killed during the collection process, many die in transit, and others die as a result of disease or trauma suffered in transit. After they are purchased, many owners don't know how to properly care for them and the animals become ill and die. Or, the animals become a problem and are destroyed or donated to a zoo. Here is my father's account of the rest of the story of Capyboppy. Bill Peet, Jr.
"First they (zoo keepers) put him in a large pen with a cassowary and two tapirs, and both the big bird and animals continually attacked Capy who ran around the pen squealing in terror. My wife Margaret was there that first day (I was home working on the book) and when she realized capy was in trouble brought it to the attention of the zoo director. So Capy was put in with the hippos and a pair of Egyptian geese. The geese harassed capy by pecking him whenever they got a chance, but since he wasn't in any real danger we let well enough alone. While Capy was still in the hippo pen I finished the book, assuming that he would live out his life at the zoo even though no one seemed to care about him. Capy's next stop was a pen with some rheas and giant anteaters and for all we could see, our big rodent was among friends. On one of our zoo visits we were surprised to see a guanaco in the pen with Capy, and the rheas and anteaters were gone. That was our last visit to the old zoo, the expansive new L. A. Zoo was about to be opened, and the old zoo was closed while the animals were being transferred. When we received invitations to the grand opening of the big new zoo we wondered why there was no capybara listed in the brochure. I promptly called the zoo to check on it and was told by a secretary that the capybara was killed by the guanaco. When I phoned the zoo director about Capy's death he explained that they were short on space just before moving to the new zoo, a ridiculous excuse for putting the animals together." Bill Peet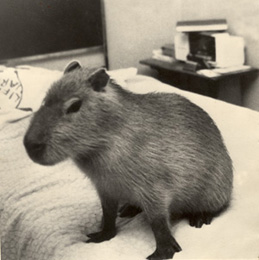 AFTER A NAP ON BILL JR'S BED.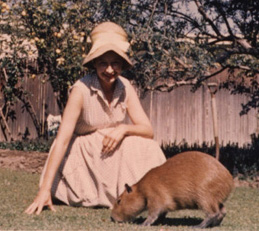 MARGARET WITH YOUNG CAPY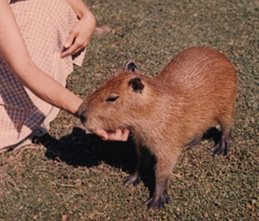 CAPY ENJOYED BEING HELD IN THE POOL
BILL JR. CARRYING CAPY
CAPY WAITING FOR SOMEONE TO COME SWIM WITH HIM