"There's no doubt," grumbled the little ram, "but that these horns will be my downfall. One of these days they'll cause me to stumble and off the mountain I'll go." And sure enough the horns did cause him to stumble and he toppled off a ledge to go tumbling down the mountainside.
"I made a drawing of a little mountain sheep..with overgrown horns. They grew all the way around his back and they curled all the way down past his hind legs and all the way up past his front legs under his chin. Well, that's all I had to begin with.
Just like Huge Harold, what are his problems?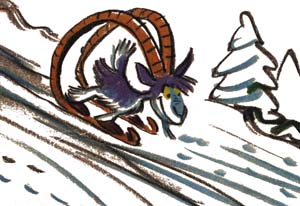 AN EARLY VERSION OF BUFORD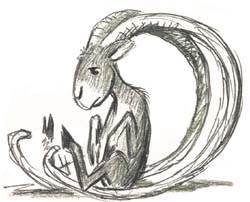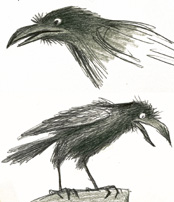 ..climbing up in the high rocky mountains, one little slip of a foot and you're falling for a mile. So Buford had these horns in his way. They were 'under foot'. So that was his problem....he couldn't keep up with the other sheep, ... they could go bouncing about the mountain tops without a worry about them. But poor Buford, he was tripping over the horns constantly. So he decided to go down and live in the flatland. But then, when he got down there, he found out that there were other dangers. One day some hunters spied Buford."