Capy was a capybara. Capybaras are the largest rodents in the world. They are natives of the American tropics and live in family groups along the banks of rivers in which they take refuge from some predators. They are excellent swimmers. My mother started calling him Capyboppy and the name stuck.
I am ashamed to admit I ordered Capy from an animal importer. Exotic pets often become more than their owners can handle, as did Capy. Only a small fraction of imported animals survive the long journey from their natural habitat to the pet store. Some are killed during the collection process, many die in transit, and others die as a result of disease or trauma suffered in transit. After they are purchased, many owners don't know how to properly care for them and the animals become ill and die. Or, the animals become a problem and are destroyed or donated to a zoo. Bill Peet, Jr.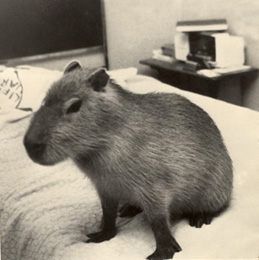 AFTER A NAP ON BILL JR'S BED.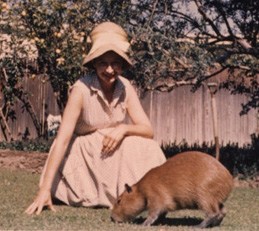 MARGARET WITH YOUNG CAPY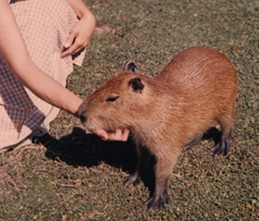 CAPY ENJOYED BEING HELD IN THE POOL
BILL JR. CARRYING CAPY
CAPY WAITING FOR SOMEONE TO COME SWIM WITH HIM