"Once there was a brave young knight known as Sir Galavant who rode around on a great war-horse shouting, 'Bring on the fire-breathing dragons! Bring on the man-eating giants! Bring on the ogres and trolls! I'll clobber the brutes I will!" All the shouting was upsetting to Clyde, the great war-horse. He wasn't the least bit brave, and he worried about what he would do if Sir Galavant ever got his wish and met some horrible monster in a fight to the finish."
"For years I made drawings of horses, the great percherons I remembered from my boyhood at the circuses and the state fair. My first attempt at a horse story was about a circus horse with a family of 'Riding Rumpazinskis' on his back. 'Clumsy Clyde' was his name, but a few sketches of the clumsy horse tripping over his own feet with the Riding Rumpazinskis tumbling off was as far as it went."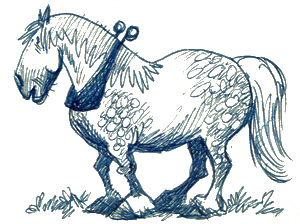 EARLY SKETCH OF HORSE FOR CLYDE
"Many years later I tried another horse story. This time it was 'Cowardly Clyde' who lived back in medieval times and was ridden by a fearless foolhardy knight named 'Sir Galavant'. The cowardly horse is horrified when the fearless knight decides to battle a gigantic owl-eyed ox-footed ogre who has been rampaging around the country. And cowardly Clyde turned out to be my big percheron horse book."