"Drawing was my main hobby from the time I was old enough to wield a crayon, and I drew just about anything that came to mind: all sorts of animals, trains, fire engines, racing cars, airplanes, gladiators, World War I battles,Revolutionary War battles, football games, prizefights. There was an art class in grammar school, but that wasn't enough for me, and my drawing soon crept into other classes. I always kept a small tablet in my desk and at every chance I would sneak a drawing into it. Often I'd be surprised to find the teacher standing over me and my tablet would be taken away. One particular teacher, however,snatched my tablet away just as the others had done and marched to the front of the room with it. But then, turning to the class, she said, "I want you to see what William has been doing". With an amused smile the teacher turned the pages for all to see. After returning the tablet she encouraged me, saying, "I hope you will do something with drawing someday." I did have hopes of doing something with it, in those days my secret ambition was to be an illustrator of animal stories. Yet, it was hard to believe that drawing could ever be a practical career. It was too much fun. At some point during high school it occurred to me that drawing was something I couldn't possibly give up, and somehow it must become my profession. I was awarded a scholarship to the John Herron Art Institute there in Indianapolis where I studied drawing, painting, and design for the next three years. Outside of school in my spare time and during vacations I continued to sketch and paint. The subject matter of these pictures was the farm, the circus, the slums and shanty towns along the railroad, zoo animals, and a variety of quaint old characters."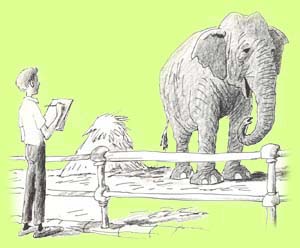 BILL SKETCHING AT THE ZOO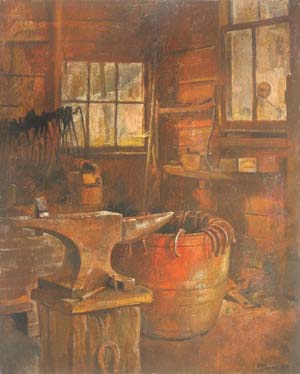 16" x 20"
This painting of a blacksmith shop in Ripley, Ohio, was done in 1935.
"I finally came upon a blacksmith shop, a little shack of a place, and took a look in the door. What I saw delighted me, the forge, the anvil, and a slack tub lighted by a golden brown glow coming through the dusty cobwebbed windows. The blacksmith was at the forge, a man in his sixties with a bushy grey beard, but still brawny. I asked him if I could paint his shop, and he replied gruffly, 'It don't need paintin'. I don't care how it looks, this is a working place.' 'Oh,' I said, 'I'm not a house painter. I paint pictures and I'd like to do an oil painting of the inside of your shop.' 'Help yourself,' he said, 'as long as you don't git in the way.' "
Viewed from the side, reflected light reveals it was painted over a still-life. The outline of a bottle and fruit(?) can still be seen. The name of the original owner of the canvas board is on the back. Having very little money while in art school, my father often used the discarded cavases of other more affluent students.
Very few of Bill Peet's oil paintings from his days in art school have survived.