"Once upon a time there lived a family of dragons. They were a horrible bunch of beasts who travelled about from country to country stirring up trouble wherever they went. One day on a trip to some faraway land the dragon family flew into a dense fog, and Droofus, the youngest of the dragons, lost track of the others."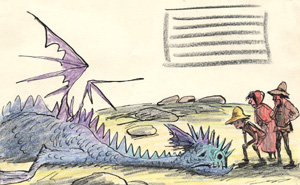 ILLUSTRATION FROM ROUGH DRAFT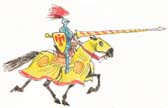 Since he was a child, my father loved to draw dragons, castles, and knights and their horses. The date of the Grand Spring Festival, April 8th, is the birth date of his wife Margaret and his grandson Timothy.
Bill Peet, Jr.