" Dudley was always up before dawn, perched on a fencepost and ready to crow at the first glimpse of the sun. For such a scraggly-tailed runt of a rooster, he was a surprisingly powerful crower. He could crow louder and longer than any rooster for miles around. Such a spirited, enthusiastic greeting delighted old Sol, the sun, and he always above the horizon beaming with pleasure, wearing a big broad smile for Dudley, who was by far his favorite rooster."
In the barnyard Dudley is the favorite of everyone, except Gunther, a bad tempered old goose who is out to get Dudley. My father did most of his planning for his books on legal size yellow pads. Portions of one pad used for planning Cock-a-doodle Dudley are shown at the right.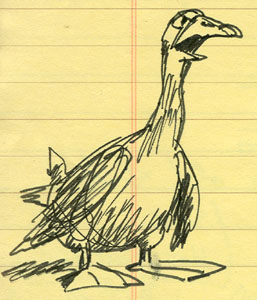 ROUGH DRAFT OF GUNTHER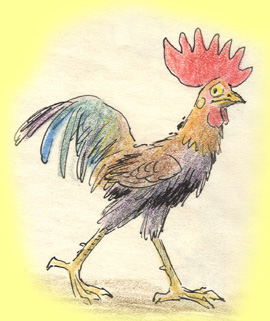 DUDLEY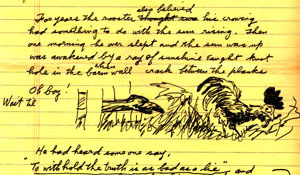 This was my fathers last book, finished just before he had a massive stroke. It was about one of his favorite subjects. The most interesting things on the farm, for my dad, were, of course, the animals. This book allowed him to indulge in his favorite pastime, drawing animals.
Bill Peet, Jr