" The year round population of the glade was no more than sixteen: half a dozen rabbits, a pair of possums, a single skunk, five green frogs, one bullfrog, and an old raccoon. These simple woodland creatures were content to believe that nothing could ever spoil their quiet little world." "Then one spring day there came a deep rumbling sound." "The trees trembled to their very roots and the creek shivered in its banks."
"My wife and I, and young sons, often drove out west of Los Angeles toward Ventura, enjoying what I called beautiful scenery, even though sometimes the hills are rather brown from the heat of summer. The rolling hills with the live oaks, twisting oaks, which I believe are some of the more interesting trees in the world. In recent years as I drive out that way, I notice that the bulldozers and earth movers have been destroying that beautiful country at a rapid rate. These monsters have carved out the hills and cut them up like cake, not leaving one of those beautiful live oaks. I was amazed at the changes. "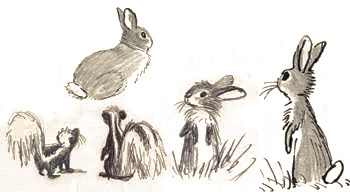 PRELIMINARY SKETCHES FOR SHADY GLADE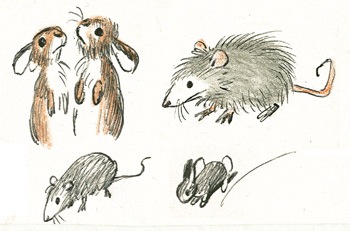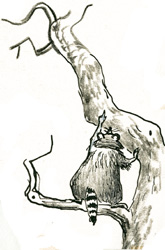 "Then I recalled on my last trip back to Indiana when I wanted my young sons to see the beautiful streams and creeks and woodlands around Indianapolis where I wandered as a boy. Those creeks and streams were so valuable to us when we were young because we spent so much time there and there was so much beautiful wildlife. But on that trip back to Indianapolis, I found the creeks were buried, and the land was flattened and the forests were ripped away by bulldozers. There was nothing left of it, just housing tracts. I was so angered by these monstrous earth movers. So I drew earth movers for a while, wondering what I would do with them. They were the villains and I needed other characters to create a story and I also needed a beautiful woodland, a creek, and I called it Shady Glade."